Order Form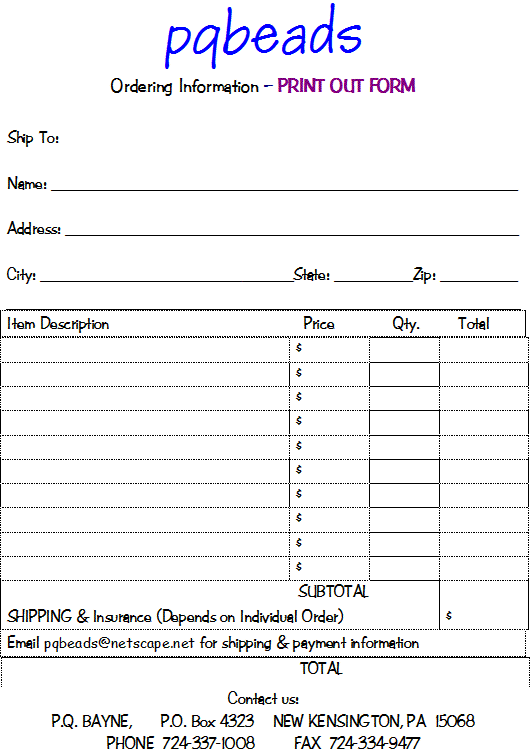 SEND US AN EMAIL
to
pqbeads@netscape.
net detailing the items you are interested in purchasing, including the item numbers or description. We will send an email confirming your order, and let you know of total charges including any shipping costs. Your privacy is assured; we do NOT sell or trade any of our customers information to any third parties,
At present, we accept checks (written on US banks) or money orders. We are not yet set up to accept credit cards. You may order by e-mail, fax, phone, or US Mail.
Please allow 10 days for personal checks to clear. We normally ship within 48 hours. Shipping is done by US first class mail or US Priority mail, usually with a 2 day arrival time. We do advise that you contact us before sending check or money order, so we can give you the exact cost.
Please add shipping costs to your total. Several items can be sent together (to the same address) to save on shipping costs. Any order over $100 going to the same address is eligible for free shipping. Discounts will be given for any large orders (over $200).
Our work is GUARANTEED. Refunds are given for any items returned within 10 days--provided the item is returned in original condition. Customer is responsible for return shipping and insurance.
If you have a special request, please let us know; we will do our best to work with you
Our fax is 724-334-9477
Our phone is 724-337-1008
Send mail to P Q Bayne Enamels
PO Box 4323
New Kensington, PA 15068