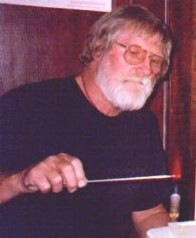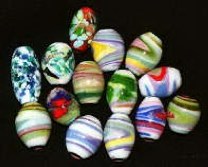 We are a small studio, located in Pennsylvania, where we design and create enamel beads. Our beads are made individually, by hand, a few at a time.

As these beads are made one at a time, there are slight variations in color and size. Typical size is generally about 10 to 14 mm. We combine them with semi-precious beads; amethyst, garnet, onyx, mother of pearl, rose quartz, aventurine, carnelian, jade, agate, serpentine, freshwater pearls, and others, to make one of a kind jewelry pieces. Findings are sterling silver or gold-filled, for heirloom quality.

Our original designs are handcrafted of vitreous (glass) enamels on a metal base, and are fired individually with a torch (or in a kiln) at approximately 1400 degrees. Some items require up to ten firings in order to complete the designs.
Enamels are permanent in color; they will not fade or change in texture with age; only the force of a hard blow can damage the surface. Even as stone,
however, abrasion can eventually wear away its glossy surface. Treat your enamels with care, and they can be enjoyed for ages.